Dear readers welcome to the women's Day special series. We reckon that just a day is not enough – so we will be celebrating women, their courage and their achievements throughout this month. I am excited about this series of blogs that we are presenting to you here featuring RKC's women ambassadors from diverse backgrounds having their own unique story to tell.
Full disclosure – the students we are featuring on the blog this month are all RKC ambassadors. The RKC ambassadors programme is an internal project aimed at facilitating prospective students' decisions about studying with us – ambassadors are not remunerated but decided they wanted to vouch for us and their respective programmes of study. So we must be doing something right!
We asked a few of our female ambassadors questions about their personal journey before they enrolled for the Master's programme, their challenges, their struggles and joys. Though we are dedicating this series to women out there, men can probably benefit from the advice too.
Let's meet: Renata Takac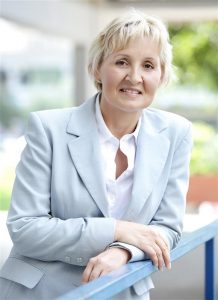 Vidhi Kapoor (VK): Who you are, really?
Renata Takac (RT): Excellent question! I was born in ex-Yugoslavia – now Croatia and spent my childhood in Pakistan. I travelled quite a bit and loved discovering other cultures. I dedicated the first half of my professional life to corporations (marketing and sales), and the second one, since 2006, to human resources and organizational development. I graduated MALIC [Editor's note: Master of Arts in Leading Innovation and Change] in 2013, and my next huge step in professional development is a Diploma in Integrative Psychotherapy, which I started three years ago.
Personally, I am a mother of a grown-up daughter, a wife and a friend. I enjoy sports – I was a marathoner once upon a time, and now I swim, row, etc. I love singing, travel, books and movies and many more. In agreement with this question – who I really am – I enjoy discovering who I am, really, apart from all the mentioned functions and roles.
VK: Which programme did you do? Why?
RT: I did MALIC, because leadership was my primary interest at that time, and change and innovation were bonuses 🙂
VK: What was the driving force behind your enrolling for an online degree? Who inspired you? What motivated you?
RT: Actually my path towards MALIC was several years long – I was looking for a program that would be a good match with my job (coaching, mentoring, training, etc.) and at least partly online. After I chose MALIC, I needed the money to fund it 🙂 so it took me some time to earn it. Finally, after I enrolled, I spent the first several weeks working in Malta; so the start was fiery, but I fell in love with the program and that was it! It's perhaps an interesting fact that I enrolled in 2011 when I was in my prime – 48 years young.
VK: What were the thoughts/situations/people/challenges holding you back from starting (if any)? How did you overcome them?
RT: I partly answered this in the previous question; once I decided that MALIC was my choice, the only obstacle was money. But I was lucky enough to be able to earn it, and I had my family's support regarding the idea that such money is well invested. Besides that, the program, of course, required the time and effort. However, it was such a perfect match with my professional interests that I did it with pleasure.
VK: Do you feel there are unique challenges women face when deciding to get back into education?
RT: Of course, many. From my experience, I was able to enroll in such a challenging program only after my daughter grew up and I left my previous corporate job. I can imagine it could be much more difficult if I had to fight opposition from family members, or similar.
VK: Anything else you would like to add that could help with the goal of increasing women's participation/access to a Master's degree?
RT: I remember one of our female colleagues telling me at the end of the York module [Editor's note: a one-week residential (face to face) module during an otherwise fully online programme] that she was greatly encouraged to remain with the programme. Before coming to York she was not sure she can continue with the studies and graduate, but that week strengthened her resolve.
Perhaps sharing other female students' experiences can encourage others in their belief that they can.
VK: What surprised you the most when you started your studies?
RT: The freedom – the choice of when, how to learn, etc. was great! Furthermore, the teachers' support and respect for our previous knowledge and experience.
VK: Any particular challenges to being a woman and studying online, or do you think all students face the same ones?
RT: I did not notice any gender-specific challenges regarding the online study. On the other hand, I did notice that all our professors were male. 
VK: What is the single most important thing you learned during the programme?
RT: Oh, that is a difficult one. Perhaps the notion that I can do it! Besides that, the whole programme was so packed with intriguing, real-life related, 21st-century ideas and knowledge. For instance, the idea of ongoing change we discussed in 2012 really quickly transferred to today's VUCA world.
VK: How did you balance work and studies?
RT: At the time of my studies I worked mainly on projects, so I was able to adjust the work to MALIC deadlines. However, now that I think about it, today I work 9-hours workdays and I still manage my psychotherapy studies… so I guess it's a matter of motivation and dedication.
VK: What's new in your life since graduating/starting your studies? Any visible impact already?
RT: It is important to me that I can support my competencies with a degree in leadership. For many of my clients, a recent master's degree is decisive because it signifies knowledge in recent leadership studies.
VK: Anything you are doing differently now because of the things you learned?
RT: Many things – starting from reading (I don't feel pressure to read the whole book or paper anymore in case I need only part of it), critical thinking, up to the content of my training, the leadership models I mention to my coaching clients, etc.
VK: Do you feel that getting a Master's degree or doing other online programmes can reduce gender discrimination in the workplace?
RT: I would say yes. As long as any program is more accessible, it means it is even more accessible to women, due to usual restrains (demands of the job, family life, etc.). The connection between a Master's degree and better job opportunities is positive, I guess.
VK: Imagine you could send a message back in time to your pre-degree self: what would it be?
RT: 1. Enjoy yourself! It is demanding and stretching but at the same time an enjoyable experience.
2. Use the chance to communicate with the professors. They are great and can help you immensely.
3. You'll make some long-term friends (Bert Lee, Brenda Jiaying Hobin, looking at you!)
4. Make your study visit to York close to the end of the programme. You will know much more and be closer to your research and thesis.
VK: Imagine you could send an object back in time to your pre-degree self: what would it be?
RT: My witch doll. It is not only a symbol of female power but the message to myself: Be yourself. You're a survivor!
Hope you enjoyed reading the first blog in the series celebrating womanhood. I really hope her story draws inspiration and courage in you to take the next big step to transform your career and make your own mark. Just like Renata, you will learn that yes, you can do it! And as she rightly points out, we also believe that sharing other female student's experiences can help others strengthen their belief that they too can! So share your experience here and let your story be an inspiration for many women Master's aspirants.
Next week we will talk about Derrylee M. Rankin, another MALIC graduate and PG Diploma holder in International Commercial Law, sharing her story, so stay tuned!
P.S.: In case you are wondering, Renata's MA programme was transitioned into an MBA in Leading Innovation and Change.