Once I started writing this blog, I realised my folly. The topic of my blog might sound simple, it was anything but, especially for me – (1) my knowledge of Procurement, Logistics and Supply Chain Management (PLSCM) is entirely academic, and (2) I am not African, nor have I ever worked or even visited Africa.
But I do know that Africa is the future and has the potential for dramatic growth (if she is able to tap into that potential), and effective management of PLSCM will play a pivotal part in this future, given the resources in raw materials that Africa has.
And hence my topic, and my folly, and something I felt needed to be done.
What I didn't realise when I picked this topic was the resources I had on hand. As of today, Robert Kennedy College (RKC) has a very large number of students from Africa who are doing or have successfully completed our 100% Online MSc programme in Procurement, Logistics and Supply Chain Management, and this is the resource I tapped into when writing this blog.
I conducted an online survey of these students (of which about a hundred participated) and asked them about the challenges they face as PLSCM professionals in Africa, the image below indicates a country wise breakup of the response we received from our students to the survey.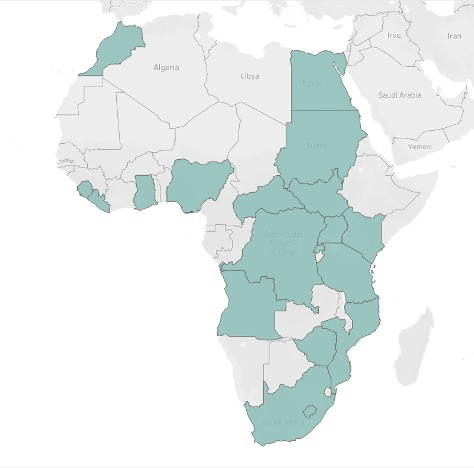 The following are the top five responses I got back from the survey. Now, while this blog is Africa-centric, I find that these challenges are universal, and effect Africa as a whole, other developing nations, and even the developed or "first world" nations to some degree.
Top 5 challenges facing PLSCM professionals in Africa
Infrastructure – is the foundation on which a strong PLSCM function is built. The whole point of having a streamlined and efficient PLSCM department is to effectively purchase (at best costs) and move raw materials and finished products from point to point in a timely and less resource intensive manner. Efficiency also means having the products readily available, while at the same time not leaving them idling in a storehouse somewhere. To enable this, state of the art, physical infrastructure is needed – from roads and railways to airports, seaports, and safe and secure areas (such as industrial zones, etc.) for manufacturing and storage.
Corruption – the universal bane to businesses, and something that is global, encouraged and fostered by everyone involved, willingly or unwillingly. It is easy to blame a corrupt official for delays and holdups, until palms are greased to get thing moving without looking at the reasons why. Are you encouraging the behaviour by paying the bribe? Is your competitor paying bribes to hold you up? Why does the official need the money, is he paid enough? Are the laws strict enough to prevent corruption?
Policy Change – As one of my former managers once told me "If you are comfortable then you are not growing". And while this is true, who doesn't like being comfortable? From our survey, this seems to hold especially true in Africa. For policy changes to take place, something big should have happened for the powers that be to even consider a change, and even then, comities have to be put in place to suggest the changes and then review the suggested changes, all this taking forever. By the time the policy change comes about, it will usually be outdated.
Stuck in time (Slow to incorporate modern methods) – A follow on to the previous point, it is not just the people in power who are slow to incorporate change, but also the people who do the work who are slow to embrace change as well. As the saying goes, "if it ain't broke, don't fix it". But what people don't realise is, it is not about fixing it, it is about bettering it. People get comfortable and don't want to change or learn new ways of doing things, and then complain about the people above them making life difficult by not embracing change and current best practices.
Cutting corners to save time – another universal truth. After doing a job for a period of time, we begin to believe that we know best, and can make a process better by cutting corners. But what we fail to understand is that we are but a single, small cog in the machine, and a process is in place to help the whole machine run smoother. By cutting corners and not following the process, all that might be achieved is to throw a spanner in the works. If you believe there is a better way to do something, take it to the management and make you case, it might just increase the efficiency of the whole machine.
These are just some of the most basis challenges that a PLSCM professional faces in Africa. I am sure there are a lot more complicated and technical challenges out there that will confound even the most seasoned PLSCM professional. Constantly learning and getting your knowledge up-to-date is required to stay ahead of the curve. Robert Kennedy College, through our exclusive partnership with the University of Salford, UK, offers a 100% Online MSc in Procurement, Logistics and Supply Chain Management to better prepare you for the challenges to come. Here's what our students said about this in our survey:

You can also chat LIVE on WhatsApp with one of our Education Advisors for more information on the programmes offered, application process, and for more information on any discounts we might be running in this rather strange period of our lives.