My bucket list was full for 2020. I was looking forward to travelling for business and leisure. I did none of that so far, and I believe I will not be able to before 2021 either.
According to the United Nations World Tourism Organization (UNWTO), tourism is the world's 5th fastest growing industry, with one billion international travellers, $1.53 trillion in global revenues, and 5% growth globally per year. Much of that growth is coming from the emerging middle classes in Brazil, Russia, India, China, and Mexico.
Travel and tourism are among the world's largest industries with a total contribution to the global economy of approximately 9.25 trillion USD in 2019.
| | | |
| --- | --- | --- |
| Year | Direct contribution | Total contribution |
| 2006 | 1,629.02 | 5,160.35 |
| 2007 | 1,809.37 | 5,765.03 |
| 2008 | 1,928.47 | 6,259.57 |
| 2009 | 1,794.88 | 5,803.03 |
| 2010 | 1,911.51 | 6,108.56 |
| 2011 | 2,157.06 | 6,925.29 |
| 2012 | 2,207.37 | 7,094.29 |
| 2013 | 2,304.81 | 7,432.19 |
| 2014 | 2,388.31 | 7,674.79 |
| 2015 | 2,320.93 | 7,444.04 |
| 2016 | 2,381.1 | 7,650.17 |
| 2017 | 2,567.88 | 8,240.74 |
| 2018 | 2,750.65 | 8,810.96 |
The direct and total contribution of travel and tourism to GDP from 2006 to 2019 (in billion U.S. dollars)
The Current Tourism Situation
Until the end of 2019, the tourism industry's growth continued to outpace global economic growth, bearing witness to its huge potential to deliver development opportunities across the world. This comes with its sustainability challenges though.
But everything changed with the unprecedented disruption caused by COVID-19. With restrictions on travel in most, if not all, global destinations, tourism remains one of the worst affected of all sectors.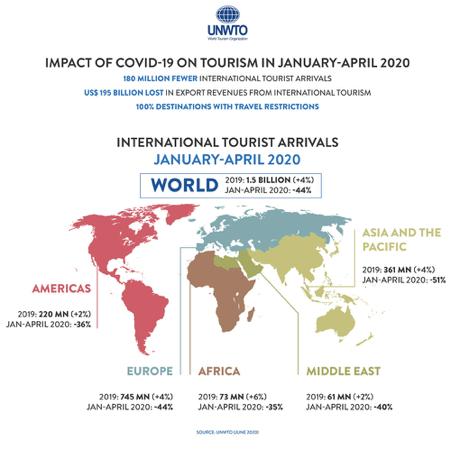 In the first quarter of 2020, US$ 195 billion were lost in export revenues from international tourism with 180 million fewer international tourist arrivals (Fig 1). Potentially, there will be US$910 billion to US$ 1.2 trillion overall loss in export revenues from tourism. The industry is destined to lose 100 to 120 million direct tourism jobs globally (Fig 2).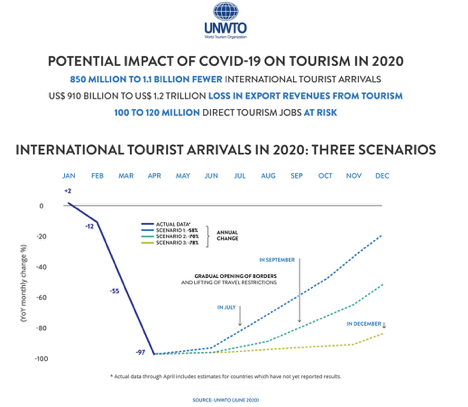 Tourism was at its peak owing to social media exposure, viral videos of exotic locations, Instagram travel posts by influencers and bloggers writing about their own travelling experiences to a new country. People have begun to cherish the interconnectedness and knowledge they gained as a global traveller. As a result, travelling is one hobby or interest that many have developed.
Post COVID-19 pandemic, tourism will continue to be among the worst-hit sectors. As I wrote this, many are still fearful, flights are still grounded and companies are being bailed out or facing bankruptcy, borders have been closed, few are travelling – there looms uncertainty on the future of tourism. With social distancing laws in effect in every country, the spread of COVID-19 has dramatically derailed businesses, communities, and livelihoods across the globe.
HOW WILL TRAVEL LOOK LIKE? – THE NEW NORMAL
Travel and tourism has come to a complete standstill. Hundreds and thousands of people were left stranded in foreign countries, across borders, on cruise ships as countries closed borders for non-essential travel. Only a few rescue flights are operating to repatriate people to their home countries. The global lockdown disrupted leisure, business, and student travel.
Governments have been trying to bring the revival process in phases. In Phase 1, only essential services like groceries, medical care, food take outs were open. Phase 2 brought more relaxation with opening of other non-essential services like barbers, spas, dentists etc. Phase 3 allowed opening of retail stores, malls, dining-in at restaurants, opening the national parks and allowing gatherings among close social circles. International travel still remains largely closed across the continents. The travel and tourism experts believe it will take greater effort to build that confidence back with the travellers before they venture out.
So given these conditions, when things start to normalize and people eventually begin to hit the road, how will travel look like?
REVIVING TOURISM
The crisis has forced the industry to re-think tourism for the future. Because the way we travel will never be the same again.
Small progressive steps need to be taken to bring the industry back on its feet. As the crisis evolves, world governments and industry participants, big or small, work to identify key priorities to facilitate a short term, medium, and long-term revival plan. These include the following considerations:
1. Lifting travel restrictions: International travel does not seem to be plausible at the time. Closed borders for non-essential travel, countries deemed unsafe for travelling, quarantine requirements imposed by several governments will act as the international travel deterrent in the foreseeable future. Slowly the governments have uplifted restrictions for domestic travel. Local travel will provide a chance for driving recovery and support tourism business.
2. Rethink Tourism: As it is rightly said, 'Necessity is the mother of invention'. Hotels, restaurants, tourist destinations will have to rebuild and revamp their strategy and think innovatively to attract visitors and tourists.
3. Restore traveller confidence: People will tend to alter their mode of transport, drive rather than do air-travel; choose alternate accommodation like sanitized rental homes rather than hotels. Committing to the health and safety of customers, businesses will need to build travellers' confidence.
Beyond immediate measures to support the tourism sector, countries are also shifting to develop recovery measures.
MAKE HAY WHEN THE SUN SHINES
The measures we put in place today will shape the tourism of tomorrow.While it may seem to be the worst industry to build a career in right now, Tourism has always survived not one, but many economic crises.
As things improve slowly, the industry once again will witness millions of travellers flocking from one country to another, resulting in an increased demand for tourism professionals. We need visionaries and people with a passion to take tourism to a new level – you can be one of them through our 100% online MBA in Tourism.