Robert Kennedy College has pioneered Swiss quality online learning since 1998. It offers rigorous but flexible learning programmes enhanced by state-of-the-art online e-learning technology. We always like to stay ahead and modern in our approach. So, here's introducing a fresh, revamped look to our college website.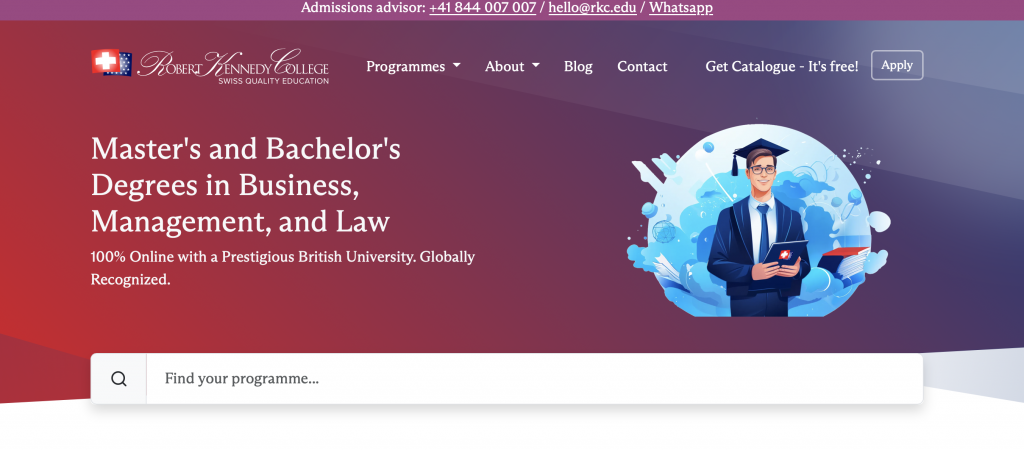 The user-friendly layout is welcoming, clearly laid out and interactive—the homepage links to programme details, features, and course catalogues. The quick search bar allows you to look for the programme of your choice, be it Project Management, International Business, International Commercial Law or the BA (Cons) programme. Information is available at one click.
The top bar provides links to contact our education advisor in real time through phone, email or WhatsApp.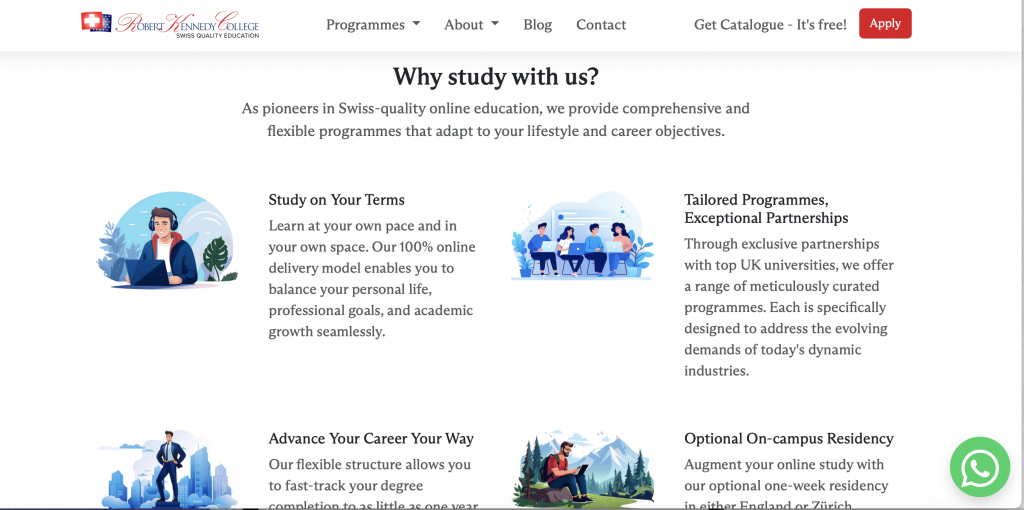 Further, you find an overview of why to study online with RKC. You can also find all information about RKC's partnerships with three universities – the University of Cumbria, the University of Salford Manchester and York St John University.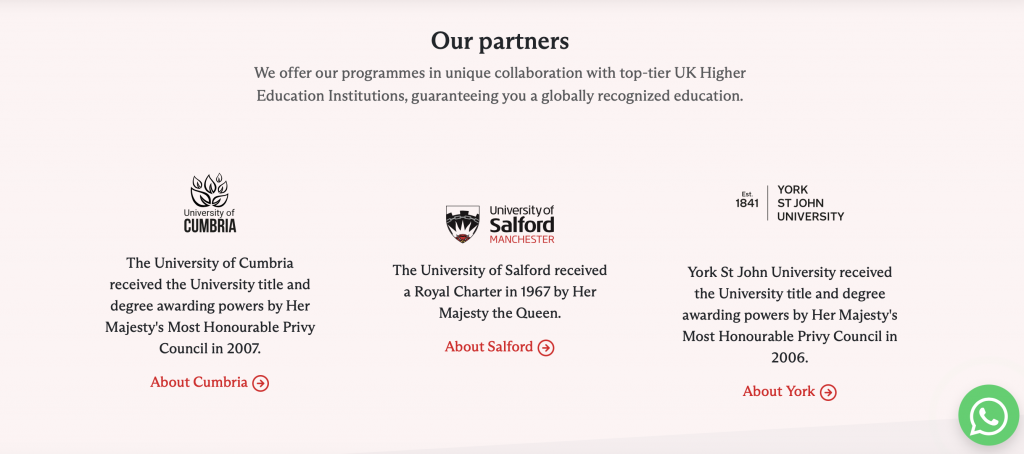 Each dropdown provides detailed information about the programmes RKC offers – Bachelor of Business, Master of Business Administration, Master of Science and Master of Laws.
Next, the ABOUT dropdown provides detailed information about Robert Kennedy College and its partners. Every student seeks information on the fees, accreditation and recognition, and admission requirements. This tab includes everything that you are looking for.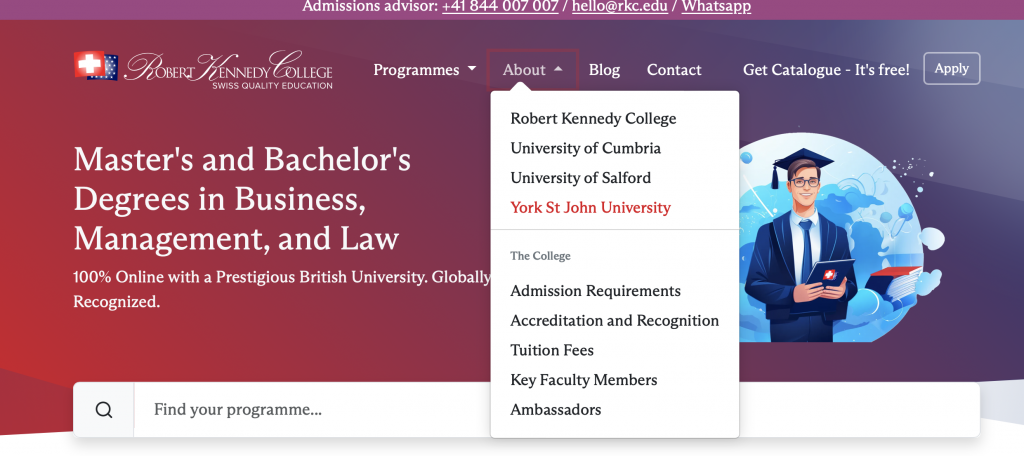 Another great feature you can access is the link to the Ambassadors page. Here you can chat with our ambassadors – current students or alums – to ask any question that you might have about our online Master's or to hear about their experience of studying with RKC.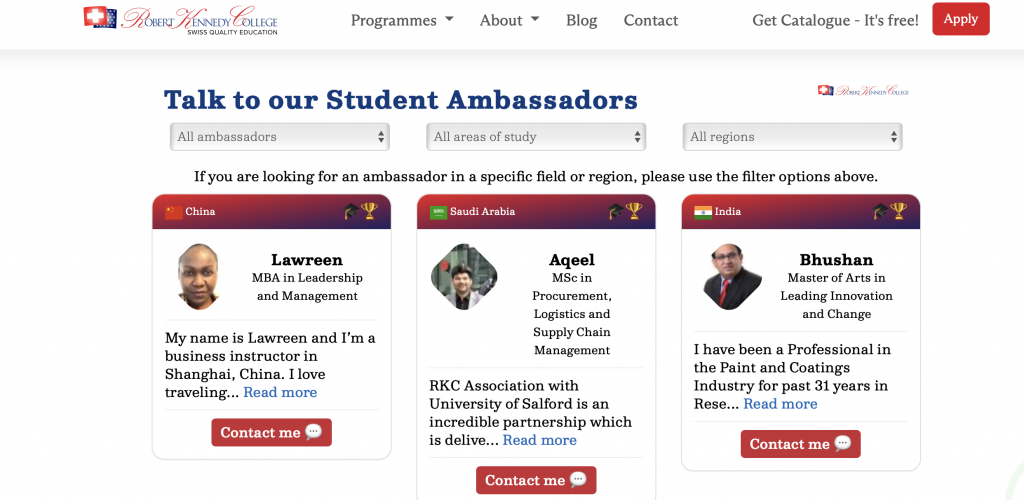 The fees page provides comprehensive detail about the fees, instalments and various options for payment. It lets you convert the fee structure into the local currency!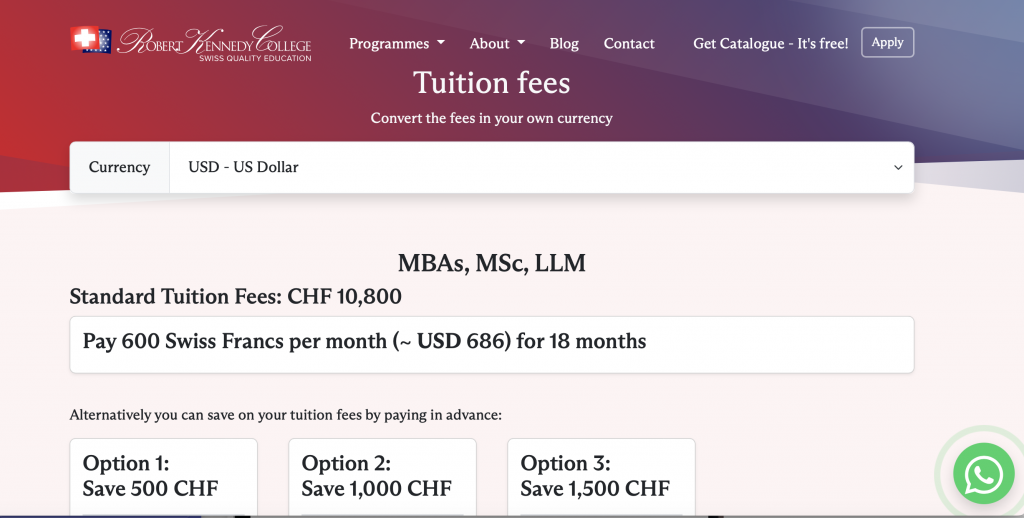 Remember to check out our blog link from the top bar, and for a quick chat with one of our education advisors, click on the WhatsApp logo on the bottom right of the page.
What do you think of this new look? Let me know your thoughts in the comments section!