These are difficult and scary times, and at least for me, it just highlights how much I depend on the strength of the women in my life to see me through. I pray and hope that all our readers are being safe, taking precautions, practicing social distancing and doing their little bit to fight the Coronavirus (COVID-19). Be safe!
As we continue with these Women's Day series of blog posts, we asked some of our students to share their experiences with us – the challenges of getting back to school, of managing work and study along with family, and the unique challenges they faced being female students.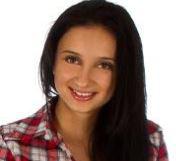 Ms. Iulia Maria Garbacea is one of our student ambassadors and is a graduate of our M.Sc. programme in Marketing through our exclusive partnership with the University of Salford, UK. Let us see what she has to say:
Who is …
A short profile
Sahil Devasia (SD): Who are you, really?
Iulia Maria Garbacea (IMG): I am a 28 year old Romanian woman, living in Bucharest. I am a bit younger than the average graduate (or at least was when I graduated) but would not change it for the world. Professionally, I am working on the implementation of a new ERP project for a big telecom company.
Getting back into education
Your story of getting back to do a Master's degree
SD: What was the driving force behind your enrolling for an online degree? Who inspired you? What motivated you?
IMG: Well, I wanted to see how other education systems worked. I did my Bachelor's in Romania, but for my master's wanted something different.
SD: What were the thoughts/situations/people/challenges holding you back from starting (if any)? How did you overcome them?
IMG: It was intimidating having to balance a full-time job with studies, so it took me some time to decide to go for it. And I won't lie, it wasn't easy. I had to do a lot of work on myself – to avoid procrastination, to not be late with submitting my papers, to study on weekends, to take days off so that I could finish my papers.
SD: What surprised you the most when you started your studies?
IMG: That I can learn much more by researching articles/topics for my papers than I ever did by memorizing information.
SD: Do you feel there are unique challenges women face when deciding to get back into education?
IMG: It depends a lot I think on the period of life in which you decide to go back to school. In my case it was easier, since I did not have anybody else to care for (children) and I could use the free time to focus on my studies. But I think that even if it might be more challenging for women later in life, they are setting an example for their children – studying at any age is possible. I think it is important to invest in our children, by investing in ourselves.
Getting the degree
The work to get the degree – what did you learn, how did you balance, what would you do differently
SD: Which programme did you do? Why?
IMG: I studied Marketing because I believe this field has a lot of potential. I believe a good marketer is like a psychologist.
SD: What is the single most important thing you learned during the programme?
IMG: In my case, the most important lesson was not an academic one, it was one of personal development. I proved to myself that I am smart and determined enough to study in a language different from my own. I also had the luck to meet and make friends with people from around the world at our residency in Zurich. It was so much fun! 🙂
SD: How did you balance work and studies?
IMG: This was the most challenging part, especially when writing the dissertation. I worked on my assignments in my spare time, and also sometimes at work. I listened to a looooot of focus music to help keep my mind from wandering.
SD: Any particular challenges to being a woman and studying online, or do you think all students face the same ones?
IMG: Personally, I did not feel like I had it harder than my male colleagues. It was a very gender-neutral environment. We were all students in front of the professors.
Life post degree
What changed, if anything?
SD: What's new in your life since graduating / starting your studies? Any visible impact already?
IMG: I switched from a more commercial role, into a more IT-focused position.
SD: Anything you are doing differently now because of the things you learned?
IMG: Yes, I am able to organize my projects better, to keep up with my commitments, and to be on time with delivery.
SD: Do you feel that getting a Master's degree or doing other online programmes can reduce gender discrimination in the work place?
IMG: I feel that any type of studies can help reduce gender discrimination in the workplace. As far as I am concerned, the online programmes are a way of keeping up with the modern world. We can do almost anything online nowadays, why not study? As people start working, it is very difficult for them to attend night-schools, or weekend schools if they want to study in parallel. But studying online means that you can listen to courses while commuting, or while taking a break from work.
Advice for other women
Or other students, really.
SD: Imagine you could send a message back in time to your pre-degree self: what would it be?
IMG: It takes a lot of commitment and a lot of hard work, but at the end, the knowledge you gain is something that no one can ever take away from you. Also, those annoying focus music tracks from YouTube – they are a life changer. I still use them today when I need to work on important things.
SD: Imagine you could send an object back in time to your pre-degree self: what would it be?
IMG: The 'How to write you dissertation' handbook – absolutely necessary!
Closing thoughts
SD: Anything else you would like to add that could help with the goal of increasing women's participation/access to a Master's degree?
IMG: Just that investing in a woman is an investment in a generation of people.
Our own little contribution: March Women's bursaries of up to 2'500 CHF!
We, at RKC, are proud to play a part in the ongoing efforts in reducing the gender disparity in education. We have already announced a special bursary on the tuition fees for all female applicants during the month of March in celebration of the International Women's Day, only a few days to go, don't lose out! #EachforEqual!
If you have been thinking about getting your master's degree, proving to yourself and others that you CAN do it, now would be a good time to take the plunge. Have a look at our list of programmes and see if we have anything that could help.