Our students come from different walks of life. Robert Kennedy College (RKC) takes pride in being a truly international college, with over 7000 students from 140 countries. Our 100% online programmes have been designed for busy managers. Our students and alums work for many international organisations and top companies from all over the world.
Allow me to introduce one of the RKC's proud students, Dr. Wambaka Kosea, sharing few insights and some words of wisdom from his own experience.
There is no better way to learn than from those who came before and see what learning strategies worked for them. It will help you become a better student and, hopefully, help you make an informed decision.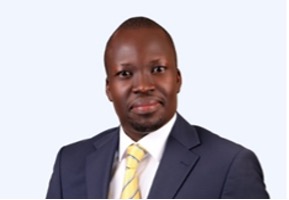 We asked Dr. Kosea few questions and we got some truly inspiring answers
Brief introduction about yourself, background, education and work experience
My Name is Wambaka Kosea, aged 46 years, born to Kosea Makwasi and Rovanance Nandudu in the District of Sironko in Uganda.
I studied at Bugwagi Primary School from Primary One to Primary Five and then went to Buyobo Primary School for Primary Six and Seven. I then joined Masaba Secondary School for Ordinary and Advance level, from where I passed and was admitted to Makerere University to pursue a Bachelor's Degree in Education (Economics and Geography). In 2002, I applied and was admitted at the School of Economics of Makerere University to pursue a Master's Degree in Economic Policy and Planning. In 2008 I enrolled for a PhD in Economics at Makerere University and then enrolled for other academic qualifications and professional skills training. I now hold a PhD in Management as well (Project Management) from the University of Central Nicaragua, a Master's Degree in International Commercial Law From the University of Salford in conjunction with Robert Kennedy College Zurich, a Master's in Business Administration from East and Southern African Management Institute, Arush Tanzania and a candidate for a Masters in International Events Management at the University of Salford In conjunction with Robert Kennedy College Zurich. 
I have also attained the following professional development and or academic certificates.
Professional Development Certificate in Negotiation (Dealing with Difficult People and Problems) from Harvard Law School, Harvard University USA.
Professional Development Certificate in Intensive Leadership Excellence from the University of California (Berkeley Extension), Californian, USA.
Certificate in International Labour Migration: Economics, Politics and Ethics, from the University of Oxford UK
Professional Development Certificate/Banking Game/Financial Boot Camp, finance and banking in Europe from Frankfurt School of Financial Management, Frankfurt, Germany
Professional Development Certificate in International Taxation on Oil and Gas and Other Mining Activities from IBFD (International Tax Academy) Singapore.
Professional Development Certificate in International Tax Aspects of Corporate Tax planning from IBFD Moscow, Russia.
Professional Development Certificate in Energy and Mining Law from Queensland University of Technology, Brisbane, Queensland, Australia.
Professional Development Certificate in International Organisations Management from the University of Geneva Switzerland.
Certificate in Climate Change: The Science from the University of British Columbia, Canada.
Certificate in Global Diplomacy: The United Nations from the University of London and SOAS University of London, UK
Professional Development Certificate in Analytical System Thinking from Enterprise University of Pretoria, Pretoria, South Africa.
Post Graduate Certificate in Project Planning and Management from Makerere University, Kampala, Uganda.
Post Graduate Certificate in Monitoring and Evaluation from Makerere University, Kampala, Uganda.
Certificate in Human Resource Management; from the Institute of Adult and Continuing Education, Makerere University
Certificate in Strategic Procurement and logistics management; from the Institute of Adult and Continuing Education, Makerere University
Professional Development Certificate in Strategic Management from East and Southern African Management Institute, Arusha, Tanzania. A high-profile management course that involved strategic thinking and long-term planning training for Big National and International Organizations, including comprehensive and coherent means of sustainable impact monitoring and evaluation.
Professional Development Certificate in Wetland and Poverty Reduction Project, from Wetlands International, with four major thematic modules, namely;-Wetlands and Water Resource Management, Wetland Valuation, Policy Setting and Advocacy, and Financial Mechanisms
Professional Development Certificate in Trade and Trade Policy from Uganda Programme on Trade Opportunities and Policy with the European Union. A course that involved training in Regional integration and agreements in Africa (opportunities and challenges facing COMESA), the Hong Kong Ministerial conference and beyond, Aid for Trade, the Doha Work Program (lessons, challenges and the way forward), Mult-lateral trade systems (focusing on ACP-EU) trade relations, National Trade Policy for Uganda and dispute settlement in international.
It should be noted that apart from the Bachelor's Degree in Education, which the Government sponsored me, the costs of all other remaining courses have been met myself.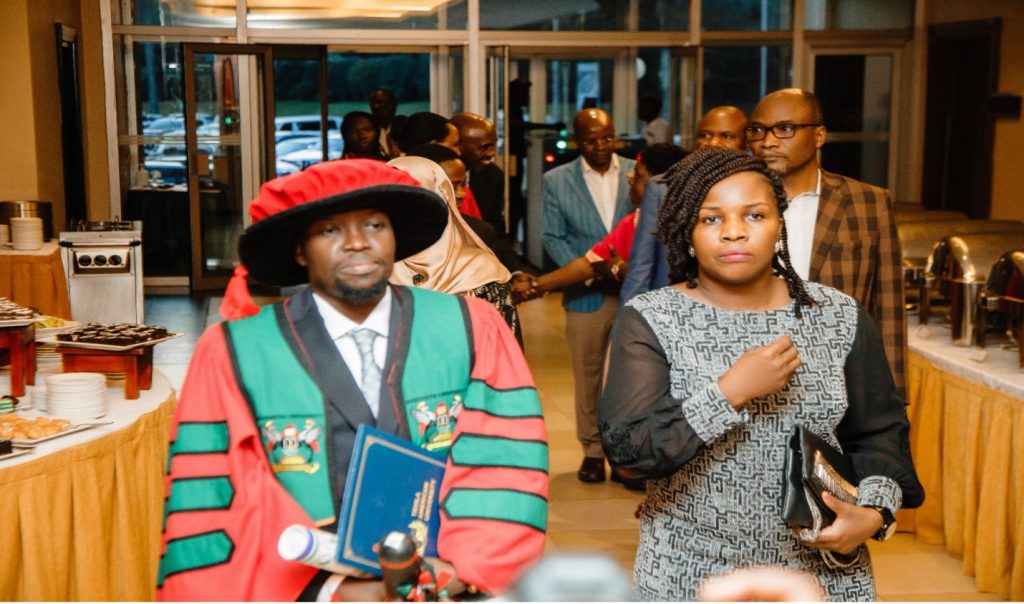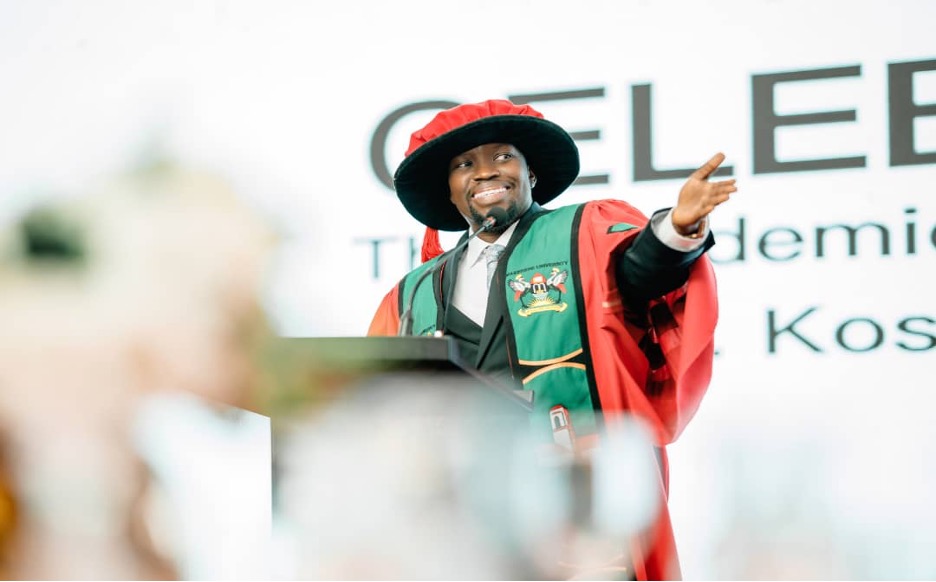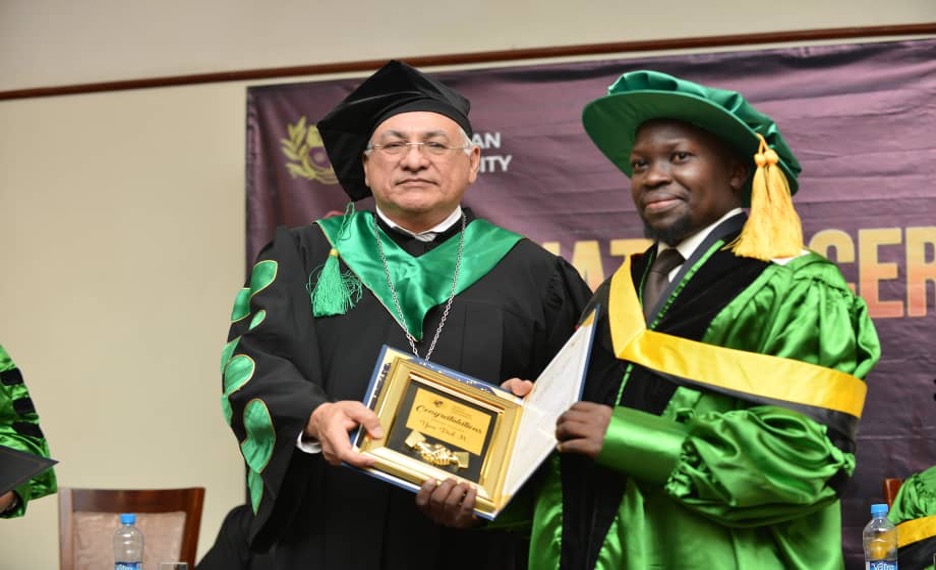 Employment
I taught Economics for two years at St Lawrence Citizens High School from 2000 to 2002. I worked as a part-time consultant for the Uganda Programme on Trade Opportunities and Policy (UPTOP), funded by the Government of Uganda and the European Union as mainly an evaluator of trade research proposals for funding.
Currently I am the Group chairman of Strategic Group of companies (Strategic Friends International, incorporated in Uganda, Washington DC and Hong Kong, Strategic African Bidder Limited, Strategic Sustainable Development Fund Limited, Strategic Luxuries Transport Company Limited, Big Push Construction Limited, Events De Strategic Limited, Soft Services Development Forex Bureau Limited and HEM Cash Limited).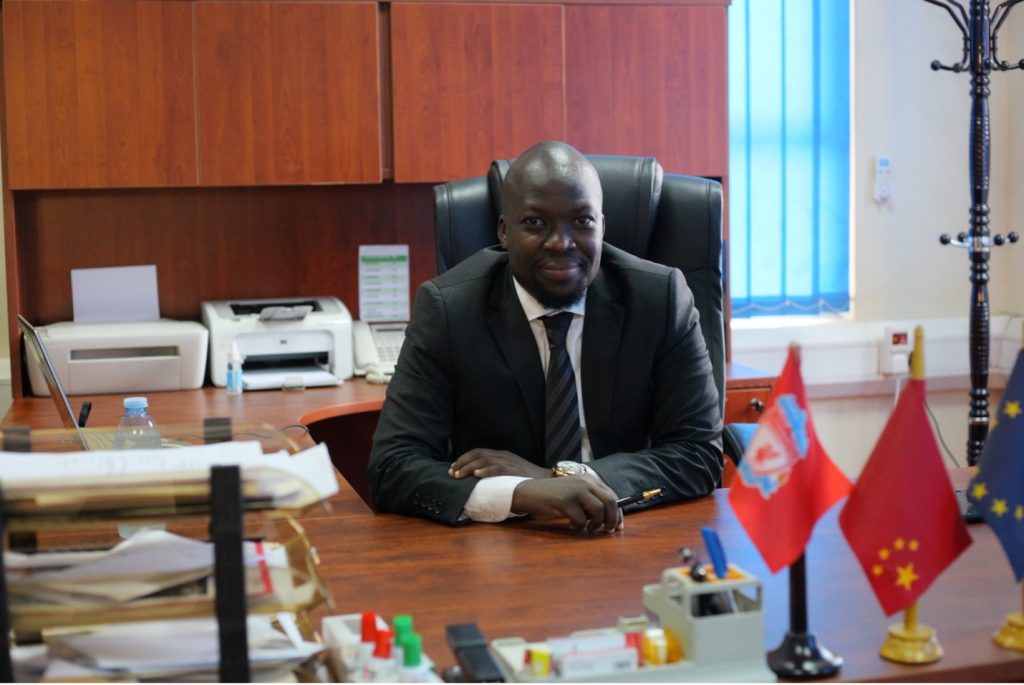 When did you decide to enrol for a Master's with RKC?
I enrolled for a Master's with RKC in 2018
What factors led you to pursue a Master's degree at RKC?
The kind of work I am involved in cuts across borders and therefore requires that I understand issues to do with international commercial law. For international recognition and competitive purposes, I must attain it from a world reputable University or College at affordable costs and friendly payment terms. I also knew the skills and or qualifications needed to achieve my life goals and wanted an institution that could offer those skills.RKC and the University of Salford offers the needed courses and have merited in credibility and international recognition and also offers the courses within my financial confines and work schedule.
How much did you devote to studying online and submitting assignments?
The modules had specific timelines for study and assignment submissions. I spared time outside my work schedule to adhere to program timelines.
Did you attend the on-campus residency program? What are your views about the residency?
Yes, I attended the on-campus residence program at Robert Kennedy in Zurich from Monday, June 17th to Friday, June 21st 2019. The residency program created an opportunity for the student to physically interact and learn from each other and also interact with the professors. It created room for the exchange of ideas and physical learning from the instructors with immediate responses since questions were put to professors and responses provided there and then. The group case studies built confidence among students to make presentations to other students from different backgrounds, and that was carried beyond residency. Interaction after class was not limited to only academics but also in other areas, such as culture and business opportunities in different countries of participants. It also created an opportunity for students to tour Switzerland and learn many things. Students created friendships that existed beyond Zurich. Residency as it sounds should be physical.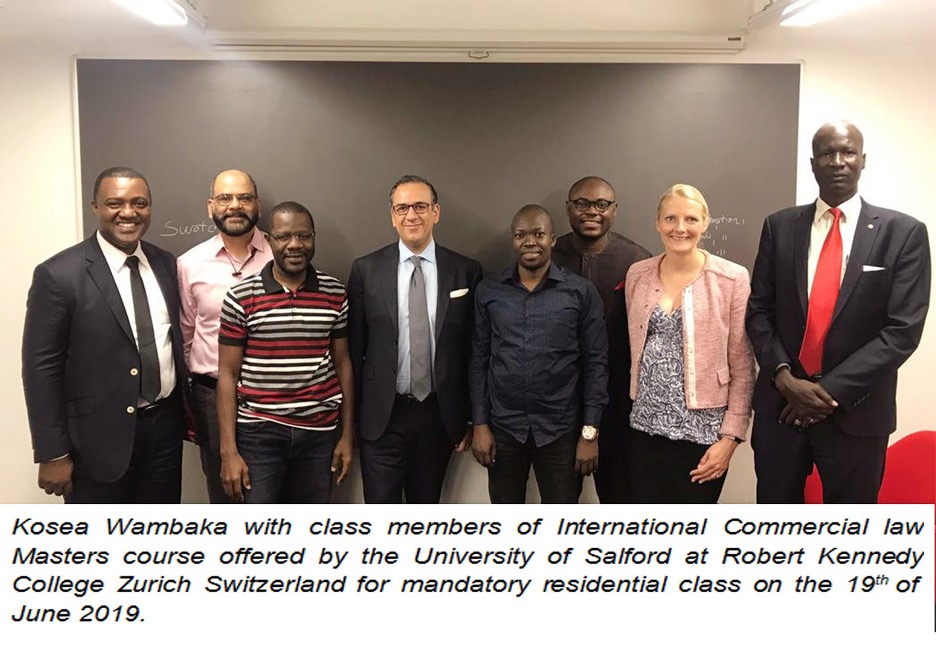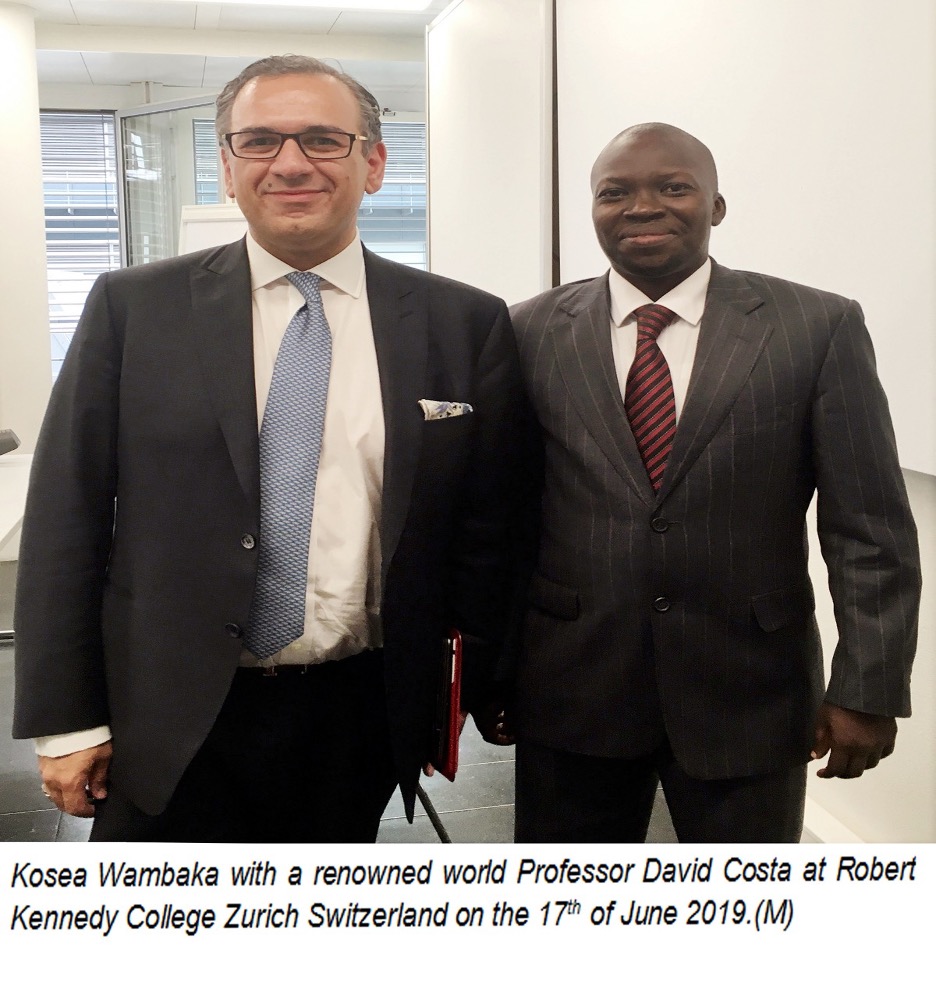 How long did it take you to complete the program?
It took me a record time of one year.
In your opinion, how has the Master's degree from RKC benefited you personally and professionally?
The master's from RKC has benefited me personally and professionally, as delineated hereunder:
I now understand the current world legal regimes (Laws, Policy and Regulations) and their applicability to my work. I am therefore positioned to execute international trade activities and consultancies from a technically informed point of view with either none or minimal mistakes. I am among the few resource person to offer technical guidance and consultancies in areas of international arbitrations in Africa. The master's program also groomed me and ushered me into conducting research privately and make applicable deductions and recommendation that can be used to better policies and programs. It should be noted that all assignments involved writing reports on certain problems or issues within the jurisdiction of the course which required one to conduct research. My confidence in the masters' programs of the college can be certified by my enrollment for the second master's in International Events Management.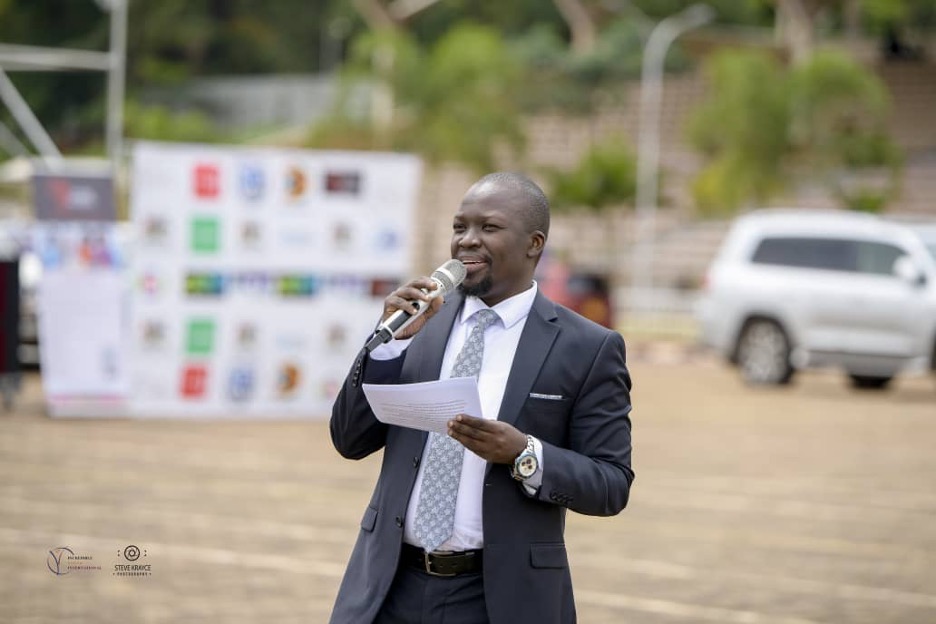 How was your experience with fellow students, professors and quality of education received?
Much as the course was done with limited physical interaction with other students and professors apart from the mandatory residency where we had a chance to physically interact, it was, however, organized in such a way that some assignments were done in groups that enabled us to learn from the experience and strength of other students from other parts of the world. The group discussions worked a great deal and eased understanding with the guidance of professors. The physical interaction at the mandatory residence at Robert Kennedy College in Zurich sealed the program learning process.
The quality of education grooms the student to independently identify problems and provide solutions from a technically informed point of view. The method of assessment is compressive, transparent and aims at cultivating the level of understanding of the student in a particular subject matter. The fee payment structure is democratic in that it gives room for students to decide on a schedule that is convenient for them. Communication and feedback during the study process are timely, and the online library is available and well-equipped. Personally, my experience did not only stop at academics but also created sustainable friendships that have actually opened business opportunities with companies that employ some of the students I studied with.
Inspiration Statement
Unless economics has changed but what I know is that education is an investment, and just like any other investment, it is associated with a number of risks and the bigger the investment in education, the bigger the risk and the bigger the risk, the bigger the profit. The level-one positions themselves will determine their readiness to handle challenges and reap the opportunities offered by the world. Anyone can do business and succeed, but sustainable businesses that exist beyond one's lifetime are uncured to professionalism and training.
Education has its own time and must be attained within a specific timeline if one is to use the skills attained to make contributions, and global contribution requires that one understands global problems meaning that the kind and magnitude of contribution will depend on the level of exposure to global problems within the right timelines.
I am driven by the fact that those who have made significant contributions on earth are human, and therefore a statement like "if they did it, I could also do it, and my personality is my unique gift" properly describes me.
A truly inspirational and motivating life story Dr. Wambaka Kosea, driving success in his career. I am sure you feel inspired enough to take that plunge of investing in education, investing in your future, investing in yourself!
We at Robert Kennedy College are here to support you through the entire process and encourage you to get in touch with our team of Education Advisors and chat with them Live on WhatsApp if you have any questions about our programmes, fee structure, the application process, or details on discounts we might be offering at this time.
If you have already made up your mind and are ready to apply, then just click here.