What is the best way to study online? Should you do an online programme? How to better manage time when learning online?
These are all questions that we at Robert Kennedy College (RKC) get asked regularly by students who are looking to join one of our online programmes. Undertaking to do an online master's degree programme will be an additional commitment to your time and finances, and it is wise to get information beforehand, cross your T's and dot your I's before making your decision.
Through this continuing series of blog posts, some of our past and current students have shared their thoughts and opinions and given their feedback on handling some of these choices and situations. Hopefully, this will help you to make an informed decision.
Learning from those who came before you is smart. I am not asking you to follow what they are saying blindly, but to take what they said worked for them and see if it will work for you, maybe make a few changes (or a lot). In the end, only you know what works best for you!
Anthony Cairns is one of our successful students who graduated with a Master of Arts degree in Leading Innovation and Change (This programme has been discontinued, we now offer a 100% Online MBA in Leading Innovation and Change in its stead). Anthony says that his experience in doing an MA via RKC resulted in his now doing a PhD.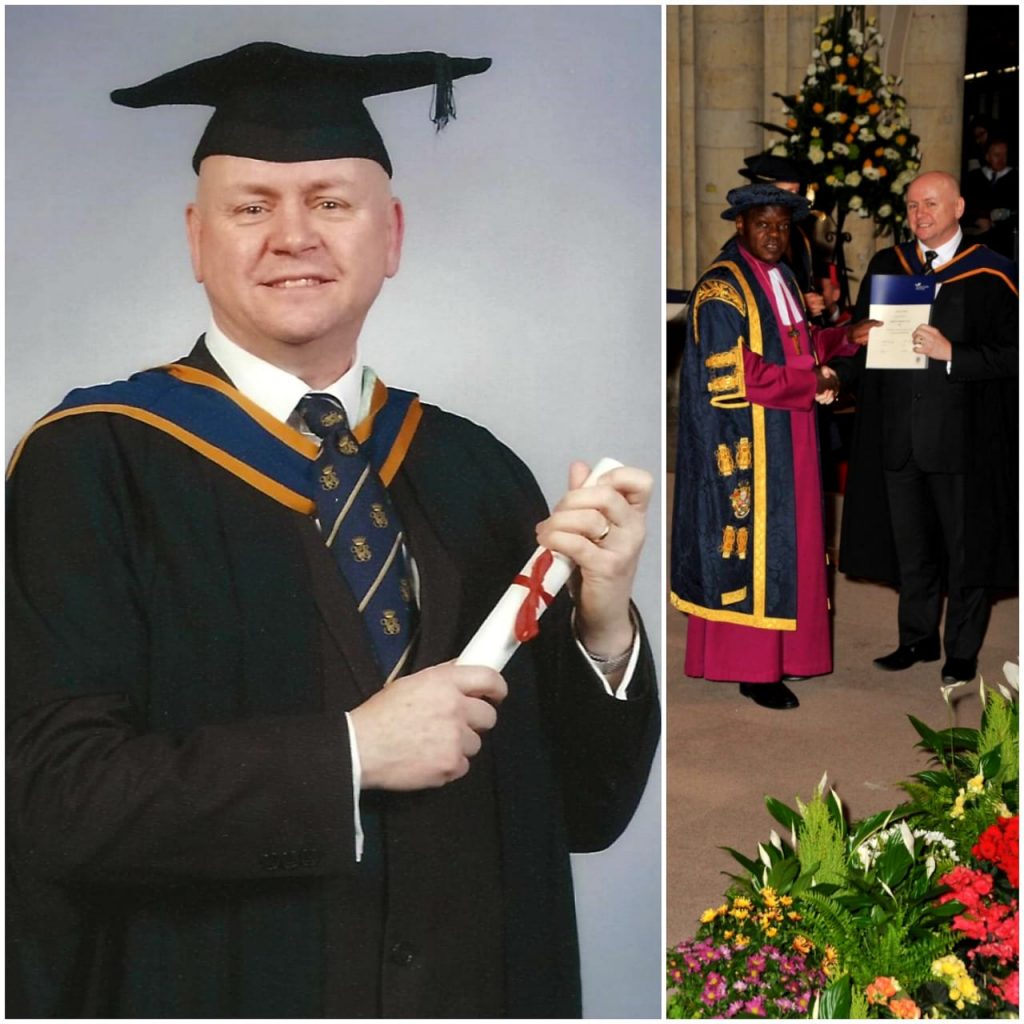 Once you get the academia bug, there is no stopping the roller coaster! 😉

Anthony Cairns, RKC Graduate
An Introduction
Who you are, really?
I am a software test management consultant, specialising in software testing, governance, and ISO standards.
Which Uni are you studying with?
I studied with York St John University for my MA.
Which programme did you choose and why?
MA in Leading Innovation and Change
The Study Plan
How did you plan to study each module, and what was the reality? For example, how many hours did/do you have to put in each day/or in a week?
I decided to study 2 modules at the same time, the reality being that I achieved this, but with detriment to perhaps I could have gained higher marks had I studied one at a time. But the end result was I managed to gain my MA in less time than I would have otherwise taken. Although I was working full-time as a contract consultant test manager, I worked every evening from around 7pm until about midnight. I then got up early at around 6am to do a couple of more hours before going to the office.
What part of the day did/do you find most suitable to study? (e.g. early mornings, lunch break, evenings, weekends?)
I used to personally love the 8pm to midnight, as well as the 6am (if not earlier).
How much time did you devote for each assignment?
Hard to say when I did 2 at the same time, but perhaps I estimate about 20-30 hours each week across 2 modules.
Travelling and Communication
How did travelling impact your ability to study?
Not at all, as when I travelled it was via flight and it gave me extra time to work on my MA.
How were you able to interact with peers and/or professors given the time differences?
There was no real time difference as such as I worked whatever time I need to allocate to get the work done and delivered.
A typical day as a master's student
What does a typical day as an Online Masters' student look like for you?
Get up early, do some University work. Go and perform my daily paid-for-work. Get back (to home or hotel), then do another couple of hours before dinner. Stop for an hour or so for dinner, then do another 3-5 hours after dinner in the evening.
Any advice?
Any advice you have for students to better plan their studies.
Perhaps work on a single module at a time. Take all the advice you get from your supervisor, as they have been there many times before. Read, read, read, then read some more. Research is paramount. Give advice and guidance to fellow students who may need a little help and guidance. I did this all the time and found it also personally very rewarding.
---
I hope this blog has answered some of your questions, and please watch this place for more similar blogs. You can also chat LIVE on WhatsApp with one of our Education Advisors for more information on all the programmes we offer, and the application process.