"Denmark based renewable energy provider, Ørsted, revamped their business model completely by being a fully renewable power provider. The company moved from being heavily coal intensive to using renewable sources to produce energy. Their carbon emissions have reduced by 83%."
"Kering SA, the French firm that owns several consumer-facing brands like Gucci, Alexander McQueen, YSL sources 40% of its products from certified sustainable sources. Also, 60% of the company's board is composed of women showcasing gender equality".
"Neste, a Finnish company, has more than 50% of its investments into the development of renewable biofuels".
"Lyft recently announced that all its rides will be carbon neutral."
These are just a few examples of headlines showcasing corporate sustainability accomplishments. From sustainable food to sustainable energy, we look up to our leaders to lead towards a sustainable world.
What is sustainable leadership really? Let's explore together!
What is Sustainability?
Sustainability can simply be defined as the ability to sustain (Sustain-Ability). The UN World Commission on Environment and Development defines sustainable development as the development that meets the needs of the present without compromising the ability of future generations to meet their own needs.
Sustainability encompasses 3 interlocking aspects:
Environmental: Environmental sustainability is about the environmental impacts associated with business while ecological sustainability is about its impacts on biodiversity.
Social: Social sustainability deals with the social impacts of a business – how are people and communities affected, internally as well as externally?
Economic: Commercial and economic sustainability is a reflection of a company's ability to carry on business and generate profit to sustain its viability.
All the above three interlocking aspects are intertwined with the regulatory sustainability aspect that requires organizations to comply with government regulations and law.
When translated to the business context, sustainability is increasingly being realized as the new normal. Businesses understand that they cannot just selfishly operate for profits. They use resources from society and nature, and therefore owe some responsibility towards society. The elements of the triple bottom line – People, Planet, and Profits, are inter-reliant. Society depends on the economy and the economy depends on the global ecosystem. The ultimate bottom line is the health of the eco-system.
The concept of corporate sustainability is still developing and is debatable. Sustainability should be understood as a concept that has been socially and politically constructed that reflects the interests and values of those involved like the business owners, social groups, and other institutions.
Sustainable Leadership
Sustainability is a wide-ranging concept with universal applicability. Businesses have always been about profitability at the expense of sustainability initiatives. While there is no denying the fact that most for-profit corporations run for maximizing return on investment for shareholders, the contribution of sustainability in enhancing or detracting bottom lines can no longer be ignored by businesses.
Sustainable Leadership embraces the triple bottom line concept and can be defined as the mindful actions and behaviours of the leaders that embrace a global worldview. It recognizes the connection between the planet and humanity and through personal and organizational choices creates positive environmental and social change.
Globalisation and increased awareness have led to increasing social pressure in society that is contributing to a shift in the type of leadership of corporations. And sustainable leadership is not only something that can make business operations sustainable and eco-friendly, it can also help a company's bottom line. Society judges the decisions of CEOs and looks for innovative solutions from the world leaders.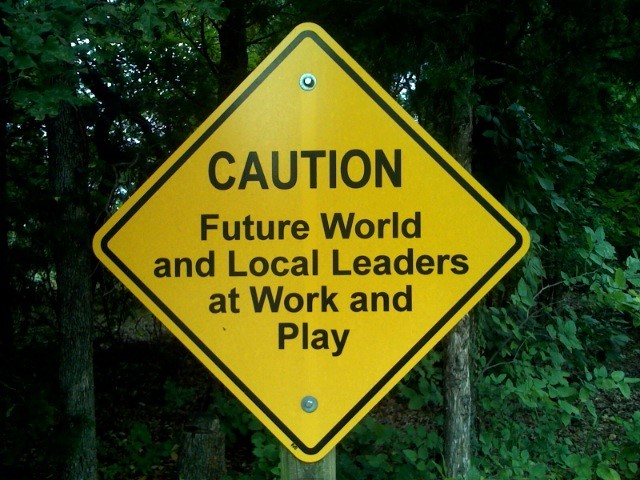 Being sustainable is not merely a regulatory requirement for businesses to comply with. The corporations want to leverage their positions and increase profitability by supporting environmental and sustainability initiatives. Businesses want to look good and portray that they are not just about profits, but care about their impact on society, the environment, and the local community.
Principles of Sustainable Leadership
Global Benefit: Gone are the days when corporations could get away with environmental damages and gender inequalities. Societies and the environment benefit when CEOs and companies prioritize sustainable leadership because environment, society, and governance (ESG) are added to the bottom line. Being responsible and adopting sustainable leadership makes money!
Understanding and establishing the system interconnections: A sustainable leader is foresighted in recognising the inter-reliance and impact of the three P factors (People, Planet, and Profits) on each other.
Transform from within: It is critical that more leaders integrate sustainability in their business strategies and can shift the company culture in the process.
Protect the environment and society: Business leaders need to pay attention to the impact their businesses have on people and environment and minimise it.
Lead by example: The only way others will follow and adopt your initiatives is when you hold yourself responsible in the first place for adhering to those initiatives (to reduce waste and increase efficiency, etc.).
It is interesting to find what initiatives different corporations adopt to become global leaders in sustainability. Here are the top 10 sustainability leaders of 2019 according to the GlobeScan-SustainAbility Leaders Survey: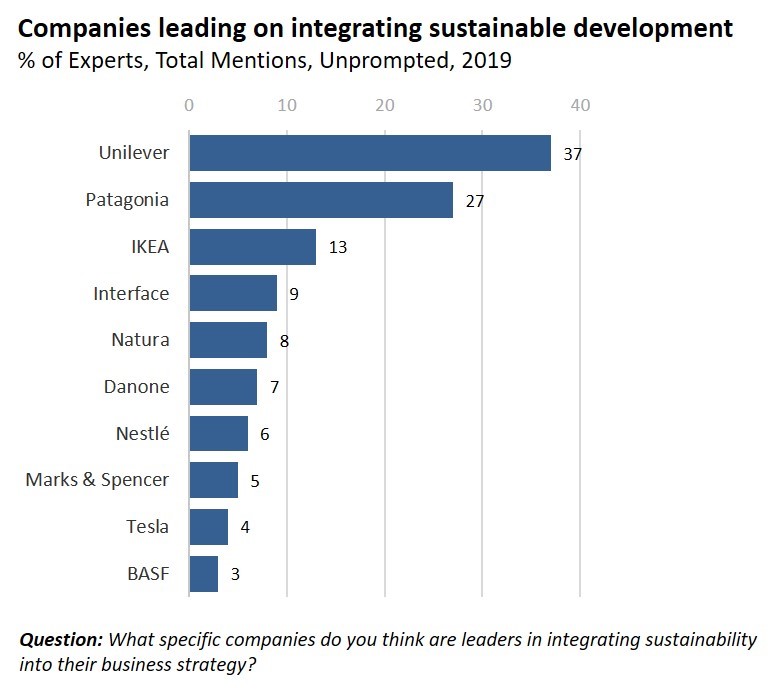 Here's a great example of sustainable leadership:
Walmart's Sustainability Project Gigaton.
Project Gigaton is a Walmart initiative to avoid one billion metric tons (one gigaton) of greenhouse gas emissions from the global value chain by 2030. This commitment is a cornerstone of Walmart's approved Science-Based Target.
Through Project Gigaton, suppliers can take their sustainability efforts to the next level through goal setting to reduce emissions in their own operations and value chain. Since the program was introduced in 2017, over 1,000 Walmart suppliers have collectively reported more than 93 million metric tons towards the goal.
CDP recently awarded Walmart an A- grade in its most recent environmental scorecard ranking.
Despite the global corporations' initiatives towards sustainability and adopting sustainable business practices, the progress has been far from satisfactory. A report published in 2019 at the United Nations by the United Nations Global Compact and the business consultancy Accenture finds that just 21% of CEOs believe business is playing a critical role in contributing to the global sustainability goals and that fewer than half are integrating sustainability into their business operations. The world requires more sustainability leaders.
Designed for tomorrow's leader, our online MBA in Leadership and Sustainability creates distinctive managers with a unique leadership-oriented career opportunity. Calling future leaders who share a vision of a sustainable future!