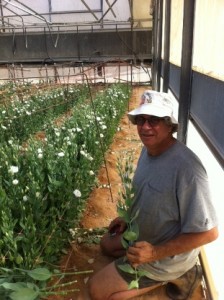 Eyal Policar is a graduate of the Master in Leading Innovation and Change (MALIC) program at Robert Kennedy College. He lives in moshav Zofar in a desert in southern Israel half-way between the Red Sea and the Dead Sea. Together, he and his wife Leaora manage a farm where they raise dates, peppers, and flowers. As this profile was being written, Eyal wrote to add that he had just received the news that he had been awarded a merit by the board of examiners at York St. John University. "For me this is an outstanding achievement," he writes.

KB: At first glance, a degree in Innovation and Change might seem like a peculiar choice for a farmer. What drew you to it?
EP: As a 30-year, seasoned innovative farmer I decided to go back and get the grey cells brain trained. I thought of doing a normal MBA until I came across a few articles that argued that there are too many "number experts" out there but the person angle is overlooked. I came across MALIC and immediately fell in love with this angle of the Business school.
Besides being a farmer I teach in AICAT (Arava International Centre for Agricultural Training). We bring 700 agricultural students from the Asian countries over for a 10-month, hands-on experience. I teach Agro-economics and Agro-entrepreneurship and from day one of my studies [in MALIC] I began using my newly gained knowledge, such as Schein's Cultural Understandings and Kotter's Eight Stages of Leading Change.
KB: What has been the best part of your experience doing this online degree?
EP: Interaction with other students. Same books, same articles, same questions but such diverse answers and understandings from fellow students; culture galore on the RKC forums. Those who didn't participate simply didn't use the resources to the fullest, a shame.
KB: Do you have a favorite local food?
EP: My wife's cooking. Here we eat "warm" at lunch and light meals in the evening. It's unbelievable how many different ways there are to cook with peppers, tomatoes, aubergine, basil, tarragon, mint, and dates which we have plenty during the season.
KB: Tell us about the seminar that you have been asked to present by the Rothschild foundation (the Rothschild Ambassadors program, which looks for young people interested in becoming the future business and social leaders of Israel).
EP: One of the most intriguing aspects of leadership is the idea that different situations demand different leadership capabilities. I constructed a seminar picking up on this theme which the Rothschild foundation has asked me to present it to the Rothschild Ambassadors. This is a great honor.
KB:  Any advice to MALIC students?
EP:  These studies are all about change. Are you a change agent? Can you change? As you read academically and watch the videos, ask yourself: can this idea be part of my life pragmatically. Give yourself examples in your life of things that need to change and put your money where your mouth is.
For instance, the other day my son invited me to a small restaurant in Tel-Aviv. I said to him, today I will order the least appetizing meal on the menu.
"Why?" he asked me.
"Because i am hungry and it takes courage to order the least appetizing meal."
So I ordered stuffed beets. The stuffing was burghul [a coarse wheat]. Imagine no meat, potatoes or rice. It was one of the best meals I have had in a long time.
KB: You play in a band called The Desert Coolers. Tell us more!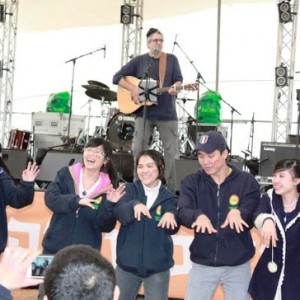 EP: I believe in soul economics, which means there are things you do for your livelihood and things you do for your soul. In my case its music. In my band the Desert Coolers we play oldies.
(Editor's note: Eyal Policar is interested in keeping in touch with other MALIC alumni to create a kind of active Alumni center. The idea would be to have an outlet for keeping up with and exchanging academic and practical ideas, business opportunities, and a continuation of studies. Anyone interested can contact him through the OnlineCampus or alternatively through LinkedIn).